Thousands gather in Sanaa after rebel clashes
"I call on our brothers in neighbouring countries ... to stop their aggression and lift the blockade ... and we will turn the page", Mr Saleh said in a televised speech on Saturday, according to Agence France-Presse.
Earlier in the day, Saleh urged for talks with the Saudi-led coalition including the UAE forces in order to end the war in Yemen, a move Saudi Arabia welcomed.
The two groups had been fighting the Hadi government for almost three years under an uneasy alliance. Arab media is reporting that the former president's supporters have gained control of key government installations in the capital, including the defense ministry, the interior ministry and Sana'a Airport.
Yemen fell into civil war in 2014, when Houthi rebels overran much of the country, including the capital Sanaa. There has been no official word on casualties but the International Committee of the Red Cross (ICRC) said that dozens were killed and hundreds were wounded in the fighting.
On Thursday, Houthi threatened to retaliate again over a blockade imposed by the coalition, after a November 4 rebel missile attack that was intercepted near Riyadh global airport.
Houthi fighters and battalions loyal to Saleh made common cause to fan out through Yemen in 2015 and have weathered thousands of air strikes launched by neighboring Saudi Arabia and its allies.
Saleh and the Iran-backed Houthis, also known as Ansarullah, have accused each other of inciting Wednesday's unrest.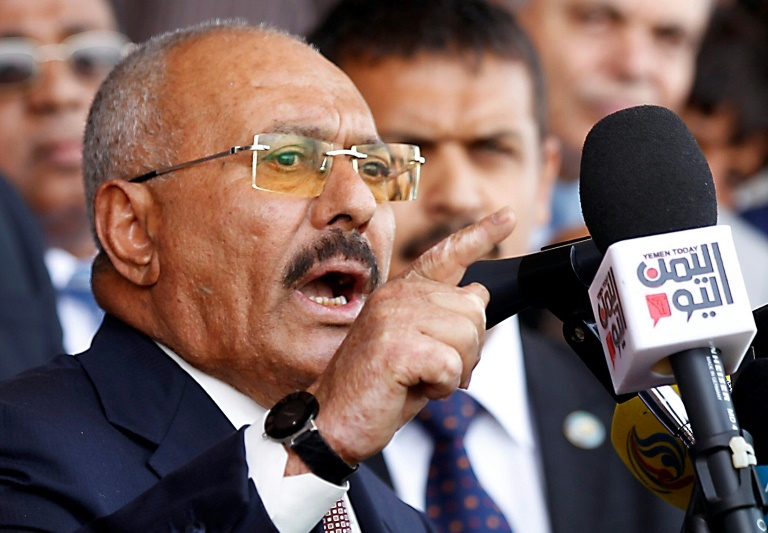 Yemen's ex-president Ali Abdullah Saleh addresses supporters in the capital Sanaa
He said that the Houthi militias had been seeking "in various ways to reproduce the model of the mandate of the Iranian jurist, and bet on the decision of Yemen and its sovereignty to the malignant evil and mischief in Qom and Tehran".
The United Nations has warned Yemen faces mass starvation unless the Saudi-led coalition allows more food aid to enter the impoverished country.
"I appeal to the leader Saleh to show more wisdom and maturity. and not to heed incitement calls", Abdel-Malek al-Houthi said in a speech on the group's Al-Masirah TV, adding that his group was ready to sit down for arbitration and abide by any ruling.
In a statement carried by the Saudi-owned Al-Hadath channel, the coalition said it was "confident of the will of the leaders and sons" of Saleh's GPC party to return to Arab fold.
A statement from Saleh's party called for its loyal armed tribes and supporters to fight against Houthis.
"It needs to be fully wound down if we are to avoid an atrocious humanitarian tragedy involving the loss of millions of lives, the like of which the world has not seen for many decades", UN Undersecretary for Humanitarian Affairs Mark Lowcock said Friday addressing reporters in Geneva.